The MMA world has more than its share of intense athletes. These athletes are as dedicated as any athlete you might find competing in the Olympics, or at any major world competition, and they all have their own methods of training. MMA Fighters have to focus on something a bit different then most competitive sports though, because they are not just testing their athleticism, but they are testing their opponent's training and fitness in direct competition. Who hits harder, who can slip punches the fastest, and even who gasses out and wears out quickly so that they fail to finish the fight in top form. Fighters just have to train harder, and they can't neglect any part of their training, because if they don't have cardio, they burn out, and if they don't have strength, they just won't be able to withstand their opponents.
With most athletic events, cardio is king. That means that athletes spend most of their time doing aerobic exercise; miles of jogging, hours of cycling, intense sessions running, vaulting, everything they can do to get in as much oxygen as possible and use it as efficiently as possible. For someone that doesn't have to punch another human in the face, that's fine, for someone in MMA, going all aerobic exercise is going to make you a less effective fighter in the ring. MMA Fighters need strength training, and that means anaerobic exercise. That means pushing your body to pain, and extending what you think is your physical maximum, so that you can maintain your explosive power into fights lasting fifteen, or even twenty five minutes.
The best fighters, past and present know this, and so they push their bodies to the max and further. They know that when they have oxygen, they can roll on with no problems, and when they can't suck in enough air, they will be able to power through. In the past, fighters like Randy Couture pushed for intense strength training, while now, super-fighters like John Jones maintain intense workouts to push their strength training. They each have their own methods of working on those anaerobic exercises, but here is a sample workout that is built to push your strength training to the maximum:
1. Hang Clean (5 sets of 5 reps)
2. Barbell Push Press (8 sets of 5 reps: 30 sec. rest between sets)
3. Lying Leg Curl (6 sets of 6 reps)
4. Depth Dumbbell Snatch (4 sets of 4 reps)
5. Ring Twists (3 sets of 4 reps to each side)
6. Clean from Knees w/Jump (3 sets of 10 reps)
7. Medicine ball superset (run the cycle three times for a total of three supersets)
Medicine Ball Power Up (5 reps)
Medicine Ball Sprawl and Jump (8 reps)
Medicine Ball Plyo Push Up (8 reps)
8. One-Leg Straight Leg Walking Dumbbell Deadlifts (3 sets for 25 yards each)
This workout starts easily, and ramps up quickly, to get your muscles working and power through the acid buildup that no doubt will accumulate in your muscles. In any case, where weight is a variable, do the maximum you can without injury, while still able to complete the full set. This will get your body used to working while tired, while maximizing the muscle building aspects of the workout. It is one sample way to build a workout that works on your strength training, but it is not the only way. If you are serious about maximizing your strength training, then you should consult with a professional trainer and develop your workout plan, but remember to push hard, push often, and get used to working at the anaerobic level.
When you think of MMA fighters, what all do you think about? Ripped abs? Amazing physical bodies? Endurance? What makes someone a truly standout MMA fighter? One such standout MMA fighter would be none other than Canada's own pride and joy, Georges St-Pierre. He's the current welterweight champion of UFC and one of the most outstanding fighters in all of MMA history. He's definitely a man who knows exactly how to be on top of his fighting game at any day of the week and during any of his particular fights. GSP knows how to keep the pressure on and ultimately not buckle under pressure as his win over Nick Diaz in Montreal, QC on March 16, 2013. GSP kept his cool as Nick talked smack and ultimately was humbled by a GSP victory.
GSP has only lost two bouts in his entire UFC career, and ended up quickly avenging both of them in successive bouts. He keeps a lean figure in order to remain qualified in the welterweight division and continue his prestigious career going strong. He has won his last eleven fights in a row through both unanimous decisions or submissions and technical knock outs!
In order to have all of this success, you'd think that GSP would need an incredible regimen that puts many different types of workout schedules to shame? GSP has quite the rigid and thorough workout plan to ensure his health and his fighting abilities remain in top form, which is especially required of someone defending one of the most popular and sought after titles. As part of GSP's workout, he exercises with people who are better at him at a given fighting discipline. Whether it is a boxer, wrestler or jujitsu fighter, he always wants to be challenged in how he competes and learns how to be better than what he was before. It helps him develop his skills rather than fighting someone who is of equal skill or just regular sparring partners.
One way GSP exercises involves a 150+ pound barbell snatch. GSP always starts out with a barbell snatch because it helps activate every muscle in his lower body before it goes to his upper body level. It's these little details that set GSP's workout routine from just about everyone else. Bench presses are next for GSP, followed by chin-ups and various other full-body workouts. GSP notes that any workout that is mentally easy means you really haven't exerted yourself to your max in the gym.
With GSP's balanced workout schedule involving conditioning and technique training, he goes to the gym six days a week, twice daily. When he is further away from a fight, he'll practice just one given fighting discipline a day (boxing, wrestling or others), as well as train with people who specialize in that particular field. It helps him develop stamina, striking force and reflexes necessary to make lightning fast decisions when in the ring.
With this specialized training, you get to see GSP from behind a wall with glass to make sure that he can focus on his exercising without the need to have onlookers possibly distract him. It's a real treat for those at the gym during this time. This particular training lasts for about 60 minutes before GSP is done with it. Most peoples' exercise routine doesn't even last as long as parts of GSP's daily routines. The man is truly a machine and shows absolute focus and dedication to both his health and his career as a premier MMA fighter.
It's not just the physical that GSP has to focus on, it's also the mental workout that needs to be seen too. Confidence is definitely something that every fighter needs to have in order to avoid certain defeat. Making sure you stay on top of your game is one way of securing this. He also attests not fighting while you're injured. It obviously drags your performance down and if you lose, will shake your confidence going into the next fight. Focus is also another big strength for GSP, considering he needs to make sure that, win or lose, he can focus and maintain his abilities without wanting to quit or get angry, which can cause fatal mistakes in a match.
Great video!
Check out the whole 8 week program
Affordable and Functional
At some point you just have to admit that you need a new pair of grappling gloves. I know how it is – it is hard to let go of the old ones because you've been through so much with them, but when they don't fit right anymore and your hands get too sweaty in them and they just can't be repaired one more time, you have to admit that a new pair is in order. A great pair of grappling gloves to look at is the Everlast Style Grappling Glvoes. They are affordable and more than functional so you get a great deal. If you are looking for something that will be durable, you will love the fact that these are made from premium synthetic leather. The inner lining of the gloves whisks away any moisture that builds up, which will make them more comfortable to wear and make them last longer. The ergonomic design makes them very comfortable and the wrist strap allows for a more customized fit.
Whenever a professional fight commentator comments on Anderson "The Spider" Silva's matches, underneath all their words, generally comes the term 'unorthodox'. Many consider the middleweight champion the top pound-for-pound fighter in MMA when he is on his game, and as he has shown time and time again, he is always on his game when he steps into the ring. He has only risked loss in one fight, to contender Chael Sonnen, but Silva managed to pull out a submission with seconds left in the fight.
The middleweight fighter has not been defeated in his time in the UFC, even when he stepped up his game and put on twenty pounds in order to fight at light heavyweight vs. popular fighter Forest Griffin. He again showed his ability as a top fighter by taking out Griffin in the first round of the fight. Silva has also never been shy about his desire for a fight vs other superstar fighter George St. Pierre, the UFC welterweight champion.
With a fighting pedigree and record like that, Anderson Silva must have a training regimen that puts all other fighters to shame, right? Well, like the fighter himself, Silva's training routine is comparatively unorthodox compared to fighters that show the same level of talent and conditioning. Silva does not punish his body with workouts that last all day, every day, he doesn't spend every waking hour thinking about fighting, and he doesn't carefully plan out his diet for meal after meal.
What Anderson Silva does do is try and maintain a balanced workout schedule between conditioning and technique training. He spends a great deal of time honing his knowledge of different techniques, so that he can always approach his opponents from different angles, and confuse them by never using the same types of techniques repeatedly. From UFC's All Access show, Anderson Silva took them through a week of his training. His technique training has a specific schedule. He works Jiu-Jitsu on Monday, Muay Thai on Tuesday, and traditional boxing on Wednesday. For Thursday and Friday he repeats techniques he learned the early part of the week and puts them together in combinations built to confound his opponents. Sparring two days a week reinforces that training style, and gives him a chance to put it all together.
His diet and conditioning workout is just as unusual, in that he doesn't pound his body every day of the week like some fighters. His strength training routine lasts two hours a day, four days a week, while he cycles through a thirty-minute training cycle. He also runs forty minutes every day to build his cardio. This workout is moderate compared to many other fighters, but it means he also doesn't abuse his body and push things to injury. He doesn't pay attention to the specifics of his diet, but he keeps his calorie intake at about three-thousand calories a day, and does his best to eat lots of high protein foods, such as one of his favorites, sushi. He does avoid alcohol and sugar intake, but other than that, he doesn't specifically pay attention to his food intake. It is a very casual attitude towards his diet that many fighters don't seem to share. In an aside about his life before fighting, Anderson Silva admits that during his time working at McDonalds, he developed a taste for the Big Mac, and so now before a fight he often indulges himself with a couple of burgers before fights.
Despite Silva's unorthodox fighting style, and training style, the UFC fighter is obviously doing something right. He is the longest reigning UFC title holder with 9 title defenses under his belt, against some of the strongest middleweight fighters in the division, as well as two decisive light-heavyweight bouts that never went out of the first round. Anderson's attitude, good humor, and unusual fighting style also make him one of the most entertaining fighters to watch, and he proves above all that it doesn't really matter the specifics of how you work out and condition, as long as it works for you and how you want to approach the octagon.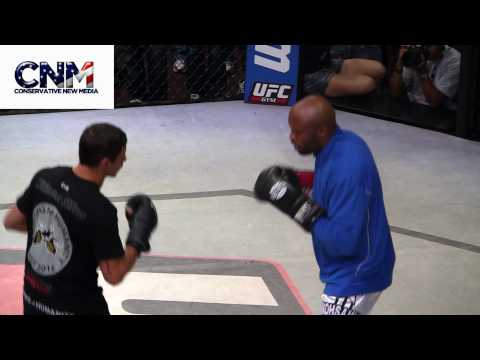 The newest league of MMA superstars have all shown that there is a new generation of athlete coming out. These 'super athletes' take their workouts to extreme, push their bodies to maximum of endurance, and sometimes further in their efforts, and in their quest to become MMA legends. Different fighters concentrate on different aspects of their game, striking, grappling, jiu-jitsu, wrestling, but if there is one thing that is proven time and time again is that anyone that gets into MMA cannot neglect their cardio workouts. How many fights have you seen where a competitor dominated a round, or even two rounds, but then became so gassed that they lost all ability to defend themselves, push the positions, and thus, lose the match. All of the current champions have phenomenal cardio, they can fight through five rounds with no problems, and they constantly prove that they have what it takes to be champions.
So, when you are starting out in your MMA careers you should not overlook the importance of a good MMA cardio workout. In fact, you should probably consider that before you even look into your technical skills. That said, cardio is not what many people expect when they get into the sport. Most athletes consider cardio the ability to jog mile after mile, or to do hundreds of reps at almost no weight. They think of it as low impact, long duration workouts. That is something of a fallacy though, because when you workout in that fashion, you may increase your long-run endurance, but you end up neglecting your ability to sustain bursts of energy for long periods. It may be counter-intuitive, but you want to feel the burn in your muscles. You want to get that build up of lactic acid in your muscles, and then push through it and continue. Increasing your anaerobic endurance increases your aerobic endurance, where the inverse is not true. Just because you can jog twenty-five kilometers doesn't mean that you can sustain maximum effort for five minutes.
Oh yes, I know that pushing maximum effort to your limits every time is going to hurt, and you think it's going to push yourself to the brink of injury, but you don't have to push maximum effort, you just want to avoid the trap of pushing minimal effort. So how do you avoid that trap? Simple, you push near maximum effort, use a small number of reps per set, but take very short rest periods per set before you kick things into the next set. This way you are getting a still getting a lot of reps, but you push your body's routine and limits to accommodate the greater weight, and thus build that intense high-strength endurance that helps you sustain maximum effort for longer periods of time. Here is a sample workout originally published elsewhere, start at 65% of your lifting capacity, and take 60-second rest periods between sets;
Sample Workout #1 — two days per week
Day 1:
Clean and Press: 15 sets x 2 reps
Curl Grip Chin: 15 x 2
Medium Grip Bench Press: 10 x 1
Deadlift: 20 x1
Abdominal Work
Day 2:
Dips: 12 sets x 3 reps
Clean and Front Squat: 20 x 2
Bent Rows: 12 x 2
Barbell Curl and Press: 6 x 4
Abdominal Work
Sample Workout #2 — performed every workout
Clean and Press: 20 sets x 1 rep
Bench Press: 8 x 2
Barbell Curls: 6 x 3
Chin: 15 x 2
Squat: 20 x 1
Abdominal Work
As your body starts to get used to these exercises, you will find that you should take shorter rest periods between sets, and then eventually increase your weight limits with the workouts. Generally, once you get down to about 20 second rest periods; look at increasing your weight limits. Don't forget, your rest periods don't have to be you standing there, gasping for air as your body is sore. Use that time and work muscles that didn't get hit during your reps, perform the exercises with no weights, but it will keep your hard up, and keep you pumped up so that you can get right back into the workout when your rest period is over.
Sticking with one of these anaerobic, fast-push and high intensity, conditioning workout doesn't just build your muscles and strength, it builds your endurance in a fashion you can use. Don't get gassed out in the ring, that five minutes of maximum effort is nothing when you have a minute rest between rounds, especially when your body gets used to doing near maximum effort with 30 or even 20 second breaks. Go into every fight and perform every instance of your training as if you are going to go a full 25 minutes with you pushing your opponent to the limit of their endurance, so you can make sure that you don't reach the limit of yours.
Former heavyweight champion Cain Velasquez is a modest fighter, despite his dominant win over Brock Lesner to take the heavyweight championship in October of 2010. He does not talk badly about his opponents, and he shows grace and modesty, even after his loss of the title to Junior dos Santos at the first UFC on Fox in November of 2011. Despite this setback, which many attribute to a bad shoulder due to a torn rotator cuff, he continues to strive to a rematch for the heavyweight championship, with an announced fight with Antonio Silva at an unspecified date.
Velasquez is one of the newer generations of UFC fighters with an emphasis on overall conditioning that tones his entire body. Coined 'super athletes' by Rogan when talking about Johnny 'Bones' Jones, this new generation of fighters pushes the physical envelope of their training to tone their bodies to the extreme. These athletes make training their number one job between their fights, and push their bodies to extremes that even regular sports athletes are hard pressed to match. Many times you can find guides to these athlete's extreme workouts, but Cain Velasquez has been reluctant to talk about the specifics of his workout.
He reveals his general schedule easily enough. He keeps a regimented schedule, that alternates slightly as he works out five days a week. On Monday, Wednesday, and Fridays, Velasquez does weight training from 8-9:30 am. He follows this with breakfast, hits the gym to do wrestling and he follows that with hard sparring sessions from noon to 2 pm. He spoke with Askmen.com and noted that "the noon workouts on Monday, Wednesday, Friday are the hardest because I'm going in against multiple training partners and fighting each one. Each fighter that comes at me is fresh and that really takes a toll on you and your body — it gets you tired and it really makes you dig deep and work hard to get through the workout. It's the worst and sometimes I hate going through it, but it is the most beneficial part of my training." After his massive sparring workout he does three rounds of jiu-jitsu, eats dinner so he can give his body gets a chance to relax, and then returns to the gym so he can finish his day out with cardio and striking workouts. His workout on Tuesday and Thursday is very similar, but he trades out his sparring for additional wrestling and jiu-jitsu practice so he can work on his technique.
He keeps this training intensity up with only short breaks after fights to recover and recuperate. The former heavyweight champion was asked about working out for new people, and for young fighters trying to break into the industry. He said, "You need good training partners — because you're only as good as your training partners — and a strong desire to always get better. Know what your strengths are, but also keep in mind what your weaknesses are; always work on your weaknesses." It is good advice for anyone that looks for a workout that will improve their game. Find something that forces an improvement in your conditioning and skills and shores up the weaknesses in your developing skills.